Reviewed by: Anna-Lise Krippaehne, DNP, FNP-BC
Table of Contents
The doctor of nursing practice (DNP) is one of two terminal degrees in nursing. This degree equips advanced practice registered nurses (APRNs) and nurse administrators with the requisite skills to implement the latest evidence-based medical care practices and help lead teams of medical professionals across healthcare settings.
While its counterpart, the doctor of philosophy (Ph.D.) in nursing, focuses on research for prospective nurse scientists and scholars, the DNP emphasizes practice-based learning. These programs build on the knowledge gained in a traditional nursing master's program by providing instruction in evidence-based practice, clinical program development, quality of care improvement, and leadership in healthcare settings.
The master of science in nursing (MSN) degree has long been the standard entry-level credential for APRNs. However, an increasing need for leaders who know how to design, assess, and implement complex patient care has caused some institutions to require doctorates.
Featured Online Programs (RN License Required)
Online Nursing Programs
Why Should Students Earn a DNP?
In 2004, the American Association of Colleges of Nursing (AACN) issued a statement in support of changing the minimum education for APRNs from an MSN to a DNP. Although state nursing boards currently require an MSN for APRN licensure, a DNP will eventually become the baseline degree. As the nursing profession evolves to require more advanced skills, DNP programs prepare students for the future of the practice, and direct-entry DNP programs can save students costs.
APRNs earned a median annual salary of $115,800 in 2019. The Bureau of Labor Statistics projected an impressive 26% job growth rate for these professionals from 2018-2028. These highly-trained professionals perform many of the same functions as physicians, such as diagnosing and treating, prescribing medication, and referring patients to other specialists.
Types of DNP Programs: Campus-Based, Online, and Hybrid
Students interested in pursuing DNP degrees can choose from several delivery options, including campus-based programs and those with fully online instruction.
These options allow students to choose programs that fit their particular learning style or work and familial responsibilities. Read on for a list of four main types of DNP programs.
On-Campus DNP Programs

In a traditional classroom-based DNP program, students travel to campus to attend courses and participate in training labs. Some programs offer classes in the evenings or on weekends, which allows working professionals to continue full-time employment while pursuing their degrees.

Campus-based programs offer a good fit for students who prefer learning in a traditional classroom structure and benefit from face-to-face interaction with instructors and classmates.

Online DNP Programs with 100% Online Instruction

Many schools now offer DNP programs with entirely online instruction. Coursework is delivered either asynchronously with pre-recorded lectures that students can access anytime, or synchronously through live video lectures and virtual classrooms that allow students to interact in real time. Students can expect to participate in any orientations and webinars online as well.

Programs with 100% online instruction are ideal for students with busy work schedules, those who do not live near a university that offers DNP programs, or those otherwise unable to regularly travel to campus.

Online DNP Programs with Limited Campus Visits

Some online DNP programs require students to attend a limited number of campus-based workshops, orientations, or immersion events. The number of campus visits required varies by program, and each visit may take place over several days.

Online MSN-to-DNP programs generally do not require campus visits, but some schools require all DNP students to present their final DNP project defense in person. Students who want the benefits of online education while still meeting with instructors and classmates a few times each year may find this option appealing.

Hybrid DNP Programs

These degree programs combine online learning and campus-based training. In some hybrid programs, students complete some classes on-campus and other classes online. Others feature specific courses split into online and in-person learning.

Students who appreciate the flexibility of online learning but still want regular in-person interactions with faculty and classmates often prefer this path. Typically, these programs work better for learners who live close to the university.
Online Nursing Programs
DNP Degree Paths
Students can take several paths for their DNP degrees, depending on their chosen specialty, desired career, and program structure. However, most programs will fall under one of the following categories:
BSN-to-DNP Programs: Registered nurses (RNs) with bachelor of science in nursing (BSN) degrees who wish to earn DNPs without first completing MSN programs may apply.
MSN-to-DNP Programs: An RN who already possesses an MSN and wants to subsequently earn a DNP can enroll.
RN-to-DNP Programs: These programs are ideal for RNs who have completed associate degrees in nursing (ADNs) and want to earn DNPs without first completing BSNs or MSNs. These uncommon programs require RNs to have earned non-nursing bachelor's degrees in addition to their ADNs.
Bachelor's of Science in Nursing to Doctor of Nursing Practice (BSN-to-DNP) Programs
A post-baccalaureate DNP program typically takes four years to complete on a traditional academic calendar. Enrollees in full-time programs with year-round instruction generally graduate in three years, while students who attend part-time can usually complete BSN-to-DNP programs in 4-6 years. Some BSN-to-DNP programs award enrollees with an MSN and a DNP degree upon graduation, while others only award the DNP.
BSN-to-DNP programs comprise 65-95 credits, depending on the school and particular specialty. The AACN requires that post-baccalaureate DNP students complete at least 1,000 clinical practicum hours. Enrollees complete their clinical hours under the supervision of preceptors and may need to complete several rotations, based on their specialization.
Campus-based students can expect to complete these clinical hours locally. Many schools have relationships with local medical facilities and help match students to preceptors in the area. Others require candidates to secure their own placements, which can be a barrier to clinical experience requirements. Depending on the program, students may be able to complete these practicum hours at their current workplace, although restrictions may apply. Prospective students should carefully review and consider the clinical placement process before applying to the program.
BSN-to-DNP Curriculum
While each curriculum varies by school and specialty, BSN-to-DNP courses cover all the nursing principles, methods, and standards of care taught at the MSN and DNP levels. Enrollees typically encounter the following course topics in BSN-to-DNP programs.
MSN Courses
DNP Courses

Theoretical foundations of nursing practice
Leadership in advanced nursing
Fundamentals of health informatics
Healthcare policy and economics
Health systems innovation and improvement

Evidence-based practice for nursing
Clinical leadership in complex systems
Epidemiology and population health
Management and analyses of health data
Health informatics
As the focus of MSN courses in most BSN-to-DNP programs is advanced specialization, students can also expect to take courses that prepare them for the highest level of practice or leadership in their particular specialty.
APRN Specialties
Upon enrolling in a BSN-to-DNP program, each student generally must select a specialty area. Some programs require candidates to apply to specific concentrations.
BSN-to-DNP concentrations fall under two main categories: direct care, which includes training for future clinical APRNs; and indirect care, which focuses on roles in organizational leadership, administration, informatics, or health policy. Direct care specializations include:
Adult-gerontology acute care nurse practitioner
Adult-gerontology primary care nurse practitioner
Certified nurse midwife
Certified registered nurse anesthetist
Clinical nurse specialist
Family nurse practitioner
Neonatal nurse practitioner
Pediatric acute care nurse practitioner
Pediatric primary care nurse practitioner
Psychiatric-mental health nurse practitioner
Women's health nurse practitioner
While less common than APRN specialties at the BSN-to-DNP level, nursing leadership or other indirect care specializations may be available at some schools. Common concentrations include:
Nursing administration
Healthcare systems
Public or community health nursing
Nursing informatics
Clinical research management
Some schools offer general nursing tracks, but these tend to take place more commonly in MSN-to-DNP programs. For more information about individual APRN and nursing administration specialties, check out our complete guide to MSN programs.
Master of Science in Nursing to Doctor of Nursing Practice (MSN-to-DNP) Programs
While BSN-to-DNP programs are relatively straightforward, MSN-to-DNP programs take on several forms, making it difficult to research them. In general, students encounter MSN-to-DNP programs in direct clinical practice or nursing administration and leadership.
Some schools offer separate tracks for nurse practitioners (NPs) who want to pursue DNPs in direct patient care, rather than those focusing on leadership in healthcare systems. Others just offer one type of program that includes training in both areas.
Post-master's DNP programs typically take 1-2 years of full-time study or 2-3 years of part-time enrollment to complete. MSN-to-DNP programs generally require 35-43 credits to graduate. Most schools require each student to fulfill 500 post-master's clinical practicum hours through their DNP program.
This requirement assumes that students completed at least 500 clinical practicum hours during their MSN. In all, DNP candidates must complete at least 1,000 post-BSN practicum hours to qualify for their doctoral degree, and MSN graduates can typically apply at least 500 master's-level hours to this total.
Training in these programs aims to augment students' previous graduate-level education with the competencies, advanced skills, and clinical hours necessary to meet the AACN essentials of doctoral education for advanced nursing practice.
Students can expect to complete many of the DNP core courses listed in the previous BSN-to-DNP section, as well as 1-2 specialization courses, depending on the program's focus. Enrollees must also complete a final DNP capstone project that synthesizes everything they have learned in the program.
MSN-to-DNP General/Leadership Programs
This degree path prepares future nurse leaders to manage complex healthcare systems, promote innovation in the nursing field, and influence policy. Graduates take on advanced leadership roles in healthcare, design and improve programs of care delivery, and develop new nursing competencies. Admission to this degree track generally falls under one of two categories:
MSN-to-DNP General/Leadership: A student can apply to these programs with either an advanced practice MSN or a master's degree in nursing in an area such as nursing administration, clinical nurse leader, health informatics, or public health nursing.

RNs with BSNs and non-nursing graduate degrees may also receive consideration by some programs on a case-by-case basis. This degree path alone does not prepare graduates to become NPs.

MSN-to-DNP General/Leadership: These programs require each applicant to possess an advanced practice MSN from an accredited nursing program and current national APRN certification.
These programs tend to share similarities in curriculum. Candidates should research the specific admission requirements for each program to determine if an MSN-to-DNP leadership program requires APRN certification.
In contrast to clinical practice DNP programs, which concentrate more on direct patient care and specialized nursing practice, the leadership DNP focuses more on addressing healthcare problems and delivery at a systems level. Despite this difference, leadership DNP and clinical practice DNP programs share many similarities in terms of curriculum and tend to differ by 1-2 courses.
MSN-to-DNP Nurse Executive Programs
In addition to leadership DNP degree programs, MSN-to-DNP nurse executive programs train students for roles as nurse managers, supervisors, department directors, chief nurse executives, or other related administrative positions. An RN can typically apply with either a master's degree in nursing or a graduate degree in a field such as business administration or public health.
These programs typically do not require APRN certification for admission, but some schools prefer students to hold national certification in advanced practice nursing or their particular field of focus (e.g., public health, executive leadership, or administration).
MSN-to-DNP Clinical Practice Programs
Certified APRNs who want to pursue DNPs in advanced clinical practice can consider this path. Each candidate must already hold certification as an NP or clinical nurse specialist and have earned their MSN in an advanced nursing practice specialty from a nationally accredited program.
While leadership DNP programs focus more on indirect care topics, such as nursing administration and health informatics, clinical practice DNP programs emphasize advanced methods of direct patient care. Despite this difference, these two types of programs share many similarities.
In addition to receiving the highest level of training in direct patient care, clinical practice students can expect to gain a solid foundation in organizational leadership, healthcare policy, informatics, and research methods, as well as the other DNP core competencies outlined by the AACN.
Students learn how to apply this knowledge in the field through coursework and clinical practice hours by using advanced health assessment, complex data and technology, and clinical decision-making to improve care quality and outcomes for patients in different populations.
MSN-to-DNP with a New or Second Specialty Programs (Any MSN Accepted)
Students who want to specialize in a particular area of advanced practice nursing and earn a DNP at the same time can pursue these programs. They typically admit master's-trained nurses (NPs, clinical nurse leaders, nurse administrators, or nurse educators) looking to gain APRN certification.
In addition to the core DNP curriculum, enrollees receive training in an advanced practice specialty, which involves taking master's-level courses in that particular specialization. Students with APRN certification can sometimes waive some master's-level coursework.
MSN-to-DNP with a Second Specialty Programs (APRN Certification Required)
APRNs who want to earn DNPs, along with certification in a second specialty area, can pursue this option. These programs are more or less a post-MSN certificate program combined with an MSN-to-DNP program. The difference between them and the specialty programs described above is that they require an APRN certification for admission and typically do not require students to take specific MSN courses they already completed during their first APRN MSN program.
Students need to complete MSN specialty clinical practicum hours and DNP-level clinical practicum hours to meet all requirements for national certification and state licensure in the new specialty.
Licensed APRNs who wish to earn their DNPs while pursuing a second specialty can typically attend a new or second specialty program, as schools will usually do a gap analysis of previous MSN coursework. Second specialty programs do not accept students who are not licensed APRNs.
MSN-to-DNP in the Same Specialty Programs (certification in the same specialty required)
Some MSN-to-DNP programs require that each student holds an MSN and national certification in the same specialty as the DNP program. Candidates may have trouble finding these uncommon programs based on name alone. In general, if a DNP program includes a specialization in the name (for example, MSN-to-DNP family nurse practitioner), the program likely requires APRN certification in that same specialty.
Students should carefully review the admission requirements of any DNP program with a specialization in the name before applying to determine if it is a new specialty or a same specialty program. These degrees include many of the same courses found in MSN-to-DNPs. Still, they typically include 1-2 courses focused on a particular specialty or have focused clinical practicums in that specialty.
Registered Nurse to Doctor of Nursing Practice (RN-to-DNP) Programs
RNs who possess ADNs and want to earn doctorates in the field without pursuing separate BSNs or MSNs can pursue RN-to-DNP pathways. These programs are relatively rare when compared to BSN-to-DNPs or MSN-to-DNPs and operate through several different structures.
Some programs confer BSNs, MSNs, and DNPs as students progress through the program, while others only lead to an MSN or DNP. In most cases, it will take over four years of full-time study for RNs to complete their DNP on this path. Learners can also pursue part-time options, which can take up to six years to complete.
Admission to an RN-to-DNP program generally requires an ADN from an accredited nursing program, a minimum cumulative 3.0 GPA, current RN licensure, one year of nursing experience, and three professional references. However, requirements vary depending on program structure. Some programs require prospective students to possess non-nursing bachelor's degrees with their ADNs.
Programs that do not award BSNs typically require students to complete a bridge year before starting their MSN curriculum. During this time, students take courses intended to bridge the educational gap between ADN and MSN instruction. Other programs may simply require enrollees to complete several prerequisite courses before entering the RN-to-DNP program.
Ph.D./DNP Dual Degree Programs
Some students may want to pursue a DNP and Ph.D. in nursing together. Learners who wish to combine advanced clinical practice skills with the research and development of nursing science can pursue dual doctorate programs.
Enrollees often complete coursework concurrently, with each student expected to complete a DNP project and a Ph.D. dissertation before graduation. Some schools allow these two projects to focus on the same topic, with the DNP project serving as a pilot study for the Ph.D. dissertation. Dual doctorate applicants typically must satisfy the admission criteria for both the school's DNP and Ph.D. programs.
DNP Projects
The DNP project serves as a capstone to demonstrate a student's mastery of the topics and practices covered in the curriculum. This project typically spans multiple semesters over several practicum courses, with approximately one course taking place each semester.
Students use DNP projects to address issues currently affecting nursing practice, healthcare leadership, or a particular patient population. Projects often occur at the student's place of employment. Upon successful completion of their DNP project, enrollees may submit their project manuscripts to scholarly journals for publication.
After identifying their project's focus, each learner uses evidence-based research and their own experience to produce a deliverable product that advances current nursing methods and demonstrates their leadership and nursing abilities. Potential DNP projects include:
Practice change initiative
Pilot study
Program evaluation
Quality improvement project
Evaluation of a new practice model
Consulting project
Integrated critical literature review
Enrollees often develop, refine, and fully design their projects in 1-2 practicum courses. Each student must also present an oral defense of their thesis. Upon completion, students may give a final defense of their projects before their DNP project teams.
Online students may need to travel to campus to complete these oral presentations, but some schools allow them to take place through video conference or telephone. While developing their projects, online learners can access the same school resources as on-campus students, such as the school's digital library or career services.
The DNP project team generally includes three members, with the student serving as the DNP project chair. Most schools require at least one doctorally-prepared school faculty member as a project advisor. The third team member may be an outside expert in the area of study -- often a senior staff member at the clinic where the project occurs.
Admission Requirements for DNP Programs
The admissions process varies by school, program level, and degree specialty. However, most DNP programs require a similar set of criteria. Along with a completed application and the associated fee, prospective DNP students may need any or all of the following:
BSN or master's degree from an accredited school of nursing (depending on degree path chosen)
3.0 GPA or higher
Current RN licensure in their state of practice
National APRN certification (if applicable)
Resume or CV
Full-time professional experience as an RN (required length of practice varies)
Three letters of recommendation
Transcripts from all previous postsecondary institutions
Undergraduate statistics course with a passing grade
Personal essay or goal statement
Faculty interview (conducted by phone or in person)
Some schools recommend taking the GRE, and may even require it if the applicant's GPA is below a certain threshold. International applicants may need to take additional steps.
Accreditation and Licensing Considerations for DNP Students
Always check each program's accreditation status before enrolling. This process speaks to the quality and rigor of the curriculum and ensures that other institutions and employers recognize the degree as valid.
In the United States, APRNs must complete a degree program accredited by either the Commission on Collegiate Nursing Education or the Accreditation Commission for Education in Nursing.
By completing an accredited degree, an APRN qualifies for national certification through the American Nurses Credentialing Center, the American Academy of Nurse Practitioners Certification Board, the AACN, the Pediatric Nursing Certification Board, the National Certification Corporation, the American Midwifery Certification Board, or the National Board of Certification and Recertification for Nurse Anesthetists.
State Authorizations for Online DNP Programs
According to the U.S. Department of Education, institutions offering online or distance education programs to out-of-state students must hold authorization to do so in the enrollee's home state. While a postsecondary institution may issue degrees in its home state, it needs this additional approval to grant a degree across state lines. Additionally, these state regulations may present barriers for clinical placement.
Some schools cannot offer online programs to students in certain states. These regulations vary among states. Before applying to an online program based in another state, candidates should check the school's website or contact admissions staff for the most up-to-date information on whether the program accepts applicants from their current state of residence.
Many states maintain membership in the state authorization reciprocity agreement (SARA), a voluntary method of state oversight established to create national standards in postsecondary distance education. SARA aims to make the state authorization process simpler and more consistent across the country. Visit this page for a list of SARA member states and approved institutions.
---
Reviewed by: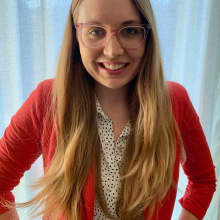 Anna-Lise Krippaehne, DNP, FNP-BC
Anna-Lise Krippaehne is a recent graduate from the University of Portland's doctor of nursing practice program. She received her bachelor's in nursing science from the University of Portland in 2012, and worked in acute care providing bedside nursing care on a general surgical unit for eight years at Swedish Medical Center in Seattle, Washington before pursuing her doctorate.
There, she also assisted in teaching new graduate nurses through simulation experiences with Swedish's Nurse Residency Program, in addition to contributing to several quality improvement projects during her tenure. She will soon begin her first position on faculty as a board-certified family nurse practitioner at Oregon Health & Science University's Family Practice Department in Portland, Oregon.